How to use Underfloor Heating Most Efficiently
We look at how to get the most out of your underfloor heating system through the proper set-up and prgramming of the thermostat:
Our standard underfloor heating systems come with hard wired PRT programmable digital room thermostats from Heatmiser, and upgrades such as a touchscreen or wireless versions are also available.
What is a Programmable Room Thermostat?
A room thermostat works by sensing the air temperature, switching on the heating when the air temperature falls below the thermostat setting and switching it off once this set temperature has been reached. A programmable room thermostat is both a programmer and a room thermostat. This means you can preselect the times you want the heating to be operating and the temperature it should reach during those periods.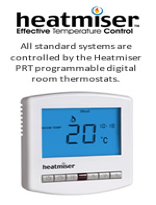 A programmer allows you to set 'On' and 'Off' periods to suit your own lifestyle.
Set-Up
The recommended way to set and use your programmable thermostat is to find the lowest temperature settings that you are comfortable with at different times and then leave it to its job. Heatmiser has a default programme which itself is pretty practical, but every home and every room has its own preferred timetable and temperature to best suit its needs.
Programmable room thermostats need a free flow of air to accurately gauge the temperature, so must not be covered by curtains or obscured by furniture. Electric fires, televisions, wall or table lamps may prevent the thermostat from working properly if placed too near. Try to avoid positioning them in direct sunlight or a draft, for this same reason. Ideal positioning is around 1.5m from the floor, near a light switch.
In UK homes, it is normal to have the room thermostat set to about 20°C during the day with the system dropping down to 16–17°C at night. This is called night set back, with the Heatmiser PRT it is possible to set the temperature at different settings many times a day.
When To Run
It is best to run the underfloor heating 24/7 during winter. With system boilers, 2 port motorised valves mean that the underfloor heating system can work completely independently, even where there is a combination of radiators and underfloor heating.
Settings
The pump at the manifold is normally set on speed three and the mixing valve can be set at 40-45°C (if it is a screeded concrete floor) and 50-55°C (if it is a timber suspended floor). The water flow can also be adjusted to each underfloor heating loop separately if required.
Why not contact us for a free quote or to see how we can help with your Underfloor Heating design.