Case Study: Ladoc Road, Keynsham, Bristol, BS31
Underfloor heating Bristol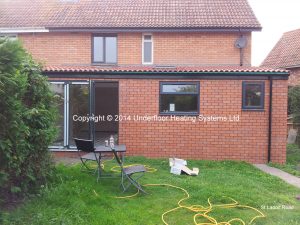 Project type: Extension and renovation. UFH throughout the ground floor
Heated floor area and number of zones:  69 m2, 4 zones
Heat source:  boiler
Pipe centres:  200 mm cc throughout
Floor construction:  concrete (screeded) floor throughout with pipe clipped onto insulation.
Thanks to our client's preparation and decision making this project is an excellent example on how to best install underfloor heating.  The client had decided to make the complete ground floor a concrete floor with slab, insulation and screed.  Not only the extension part but screed throughout.   The heat output when the pipework is in screed within concrete floors is, and always will be, superior – compared to any other floor constructions.  The screed was to be laid above the pipes within days too.  Congratulations.
When we turned up to site for installation we were pleased to notice that not only was the extension sub floor well prepared – the slab and insulation boards were flat throughout which meant that it was a pleasure to do our work.  Future kitchen units and utility room units had also been marked up and were still as per the floor plans we received for the system quote and design.   Manifold position had been discussed and agreed beforehand and there was plenty of space available to fit it in the utility room.
Windows and doors had been fitted so the system could be filled with water and pressure test completed the correct way.  In other words the preparation work had been completed to perfection.  Electricity and water available on site.  We installed this under floor heating system at the end of September and we were back commissioning it in November.  Meaning our client's family could move in before the new year and also enjoy their Christmas turkey bare feet with the heating switched on.  Yet another successful installation and yet another happy customer.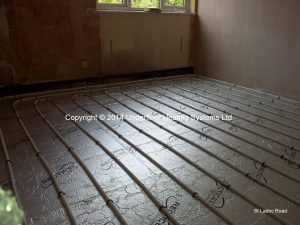 The main part of the ground floor was the open plan kitchen / dining / living room.  The design was as follows:
6-circuit manifold with four hard wired programmable thermostats.
Zone 1 – Kitchen / Dining / Living area – 40 m2 heated floor area
Zone 2 – Snug & Entrance Hall – 18 m2 heated floor area
Zone 3 – Study – 5 m2 heated floor area
Zone 4 – Utility & WC – 6 m2 heated floor area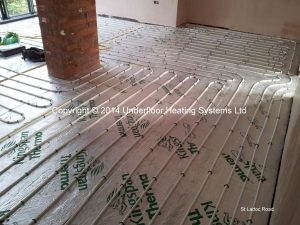 The maximum heat output from this underfloor heating system is approximately 7kW (24,000 BTU/hr). The amount of water inside the pipework and manifold is estimated to be around 46 litres.  The installer filled the system with water and left the system under pressure ready for screeding two days later.  Site plumber connected 22 mm flow and return pipes to the manifold and also installed a two port zone valve on the flow pipe to the manifold. When we came back to site to commission the ufh we followed our standard procedure which is industry recommendations, to start the heating with the manifold mixing valve set at minimum temperature.  Afterwards the client gradually started increasing the water temperature until reaching 45 degrees C.
Underfloor Heating Systems Ltd always supply and install enough pipe even for screeded floors so that average pipe centres never exceed 200 mm cc.  This is good news for all builders, plumbers and self-builders as the system will still perform in the long term future – even if existing boilers were later replaced by lower temperature heat sources such as ground source heat pumps.  You want your heating to work not only today but always.  Hence you should always get in touch with us before you purchase your under floor heating kit.