Underfloor Heating Performance
A frequently asked question that crops up when people are considering installing underfloor heating in their home is how to get the most out of the system. A lot has been written about the cost effectiveness and efficiency of underfloor heating but check the DIY forums online, and you won't have to search for long before you find someone who doesn't hold ufh in the highest regard. Below are some things you should bear in mind in order to make the most your underfloor heating and avoid ending up disappointed, venting your frustrations on a forum!
The best underfloor heating performance in general comes when twinned with a 'stone based' floor finish, such as concrete or tiles. These materials conduct heat extremely well and therefore the heat output is higher. A concrete floor with pipes embedded in the screed over insulation can provide a maximum heat output of 100 W/m2, timber suspended floors can provide a maximum of 70 W/m2.  So, for the best performing system, a concrete screeded floor has the edge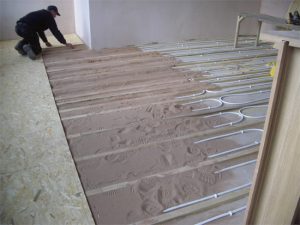 In new buildings built to current building regulations, a timber suspended floor will work fine. Current building regulations require only 50 to 60 W/m2 heat output due to the far better insulation compared to older properties.
Most floor finishes will work with warm water underfloor heating systems but it is always important that, regardless of floor finish, research is done before deciding on which to use.  Some floor finishes may not tolerate the high temperatures that the floor heating creates (particularly some of the cheaper laminates).
Most carpets will work fine with underfloor heating.  The main issue to consider is that the total TOG value should not exceed 2.5 TOG with carpet and underlay combined. For any underfloor heating system to perform, the floor should always be insulated.
Wooden floors in general are ok to use with ufh, as long as the wood is not installed over wood and does not exceed a maximum thickness of just less than 25mm.  The 21mm engineered boards are popular and commonly used in conjunction with ufh. It is important that the moisture content at the time of installation is below 9% in order to avoid any warping or shrinkage once the system is up and running. Also, it is very important to make sure that the screed is dry before the boards are fitted, which can typically take a couple of months to happen naturally. With a vinyl floor finish it is important to check that the glue can cope with temperatures of up to 27°c.
Find out more and get your free quote here.