The most important things to remember prior to installing Underfloor Heating
There are a number of things to be aware of and to prepare before installing warm water underfloor heating in your property. Having gone as far as to ordering materials and having had them delivered, we will work from the assumption that enough depth is available for screed where installing in concrete floors, polyurethane insulation has been fitted and any membranes and edge insulation have been or will be fitted.
Make sure that the installation instructions provided with the order of the underfloor heating system have been read and understood. Whether it is a concrete floor or a timber suspended floor, it will need to be clean and free of objects. It is recommended that any kitchen units and such are marked out on the floor so that the installer can avoid laying pipe in such areas. Often the floor plans show locations of units but these may be approximate only. This also guards against any last minute layout changes.
The underfloor heating installer will first need to decide where the manifold should be fitted; ideally the manifold will be located centrally within the property to prevent long pipe runs and unnecessary interference. Please also note that the manifold should be positioned so that it can be accessed if needed for any potential future service call out.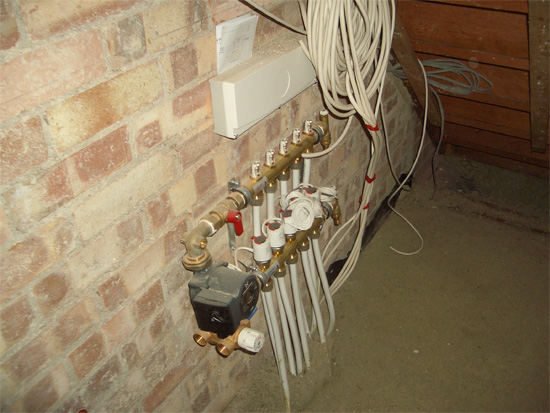 Check the design for the suggested loop layout and pipe spacing. Normally we design our underfloor heating systems with 200mm pipe spacing, but the pipe centres can vary between 150 and 250mm c/c depending on heat source, floor construction, heat losses etc.
250 mm pipe centres has been a standard within the industry when using multilayer pipes, but Underfloor Heating Systems Ltd has since the last decade gone for 200 mm centres straight away, to allow for potential change of heat source in the long term future. In screeded floors our system will work fine with c/c 250 mm pipe spacing when a boiler is used as a heat source.
If the system is to be paired with a heat pump and a water temp of around 35°C, then c/c 150 mm pipe spacing should be considered. Please contact the sales department if you think this may be the case – you may not only require more pipe but also possibly a larger manifold to make maximum use of the system. The majority of heat pumps available on the market can produce a water temperature of 45°C and with these, the standard 200mm pipe centres would be sufficient in the majority of cases.
It can be useful for the installer to carry out a site visit before the installation starts, to check that all involved parties understand what is needed from them in order to perform the underfloor heating installation e.g. the builder will need to allow a couple of months for a typical concrete screed floor to dry. Electricians should have installed the cables to each thermostat location – if plastering has already been completed, there is always the option of upgrading the controls to a wireless (thermostat) system.
At the time of installation, the property should be weather-proof and there must be no risk of freezing. Windows and doors must be fitted and a heater provided if there is any risk of 0°C or sub-zero temperatures to prevent water freeing in the pipes.
Mains water must be available on site to ensure the system can be filled and the underfloor heating installers can perform a pressure test. Mains power also needs to be available on site. If the installer plans to work after dark then obviously some work lights may be necessary on site as well.
Contact us for a free quote