How does underfloor heating cope with high boiler flow temperatures?
An explanation of how the manifold & mixing valve work
Here at Underfloor Heating Systems Ltd we use the Reliance Water Controls (RWC) pump mixing valve to lower the water temperature from the boiler to the underfloor heating system. But what exactly is a manifold mixing valve and why does every underfloor heating manifold need one?
This mixer is a self-acting thermostatic 4-port TMV (Thermostatic Mixing Valve) that is used to mix the flow from the boiler with the return from the underfloor heating system, to provide the correctly mixed temperature for the heating loops beneath your floor.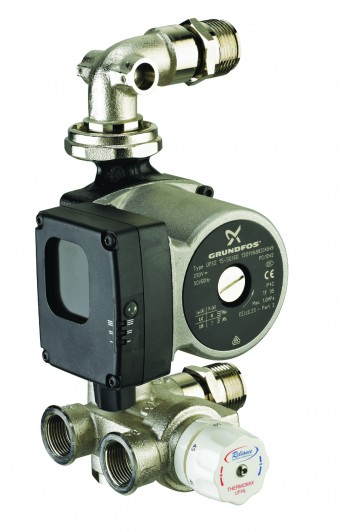 Above is pictured our latest version of the mixing valve and new A rated pump.
An example of how it all works:
82 degree Celsius (°C) flow is coming into the mixer from the boiler, the mixer is set to provide 45°C mixed water temperature to the underfloor heating pipe circuits, the return water temperature coming back from the circuits into the mixer is approximately 35°C. For longer circuits the temperature drop between flow and return pipe circuits can be between 5°C and 10°C.
The 35°C water will mix with the 82°C water and provide 45°C mixed water to the flow manifold of the u.f.h. system. Any water that is not required will be sent back to the boiler to be re-heated to 82°C. The temperature range for the thermostatic RWC mixing valve is from 35°C to 65°C. Between the mixing valve and the flow manifold an underfloor heating pump must always be fitted to provide circulated water for the heating loops.
We use the Grundfos UPS2 A rated pump for our heating systems. The A rating signifies energy savings for the end user. This pump has three speed options: speed one is 4m head, speed two is 5m head and speed three is 6m head. Variable speed is also available, however this setting is not recommended for any u.f.h. system, as it will not provide enough pressure.
The mixing valve has ¾" female thread connections for the plumber to connect the F&R pipes. The mixer pump pack can be mounted on either the left hand side or the right hand side of the manifold, giving the installers added flexibility.
Due to their reliability, in more than a decade in business we have always used exclusively mixing valves from RWC. Quality always comes first and is our main reason for having chosen RWC. Practically speaking, it is also an added bonus that they are a UK based manufacturer.
View our Technical Information page for further useful advice and information. Or Contact Us here
Copyright (c) 2013 Underfloor Heating Systems Ltd