Screed thickness with underfloor heating in solid concrete floors
You will benefit from the best performance of any underfloor heating system using a solid floor, with the pipes buried in a screed on top of floor insulation.  You can achieve a maximum heat output of 100 W / m2 in concrete floors compared to only 70 W / m2 in timber suspended floors.
Although concrete floors do tend to take slightly longer to heat up (from cold start), they retain the heat better and longer too.  Water temperatures being fed to the underfloor heating in screeded floors don't need to be as high as within timber suspended floors.  Ideally you should aim to receive approximately 45° C water into screeded floors.   Hence lower temperature heat sources such as heat pumps can be used as a main heat source for the underfloor heating.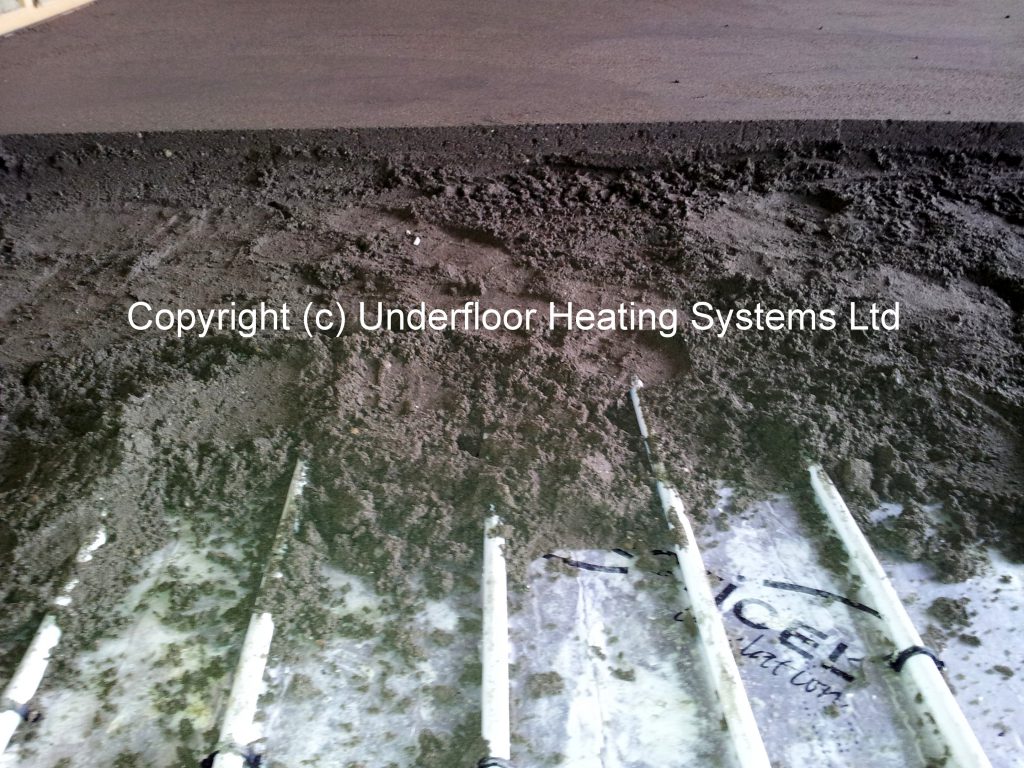 Picture above shows the sand cement screed being laid on top of recently installed pipes.  Installer Anders Berg clipped the pipe onto Recticel insulation before screeding company Hawkins took over and laid their screed.
The sub floor can be either beam & block or concrete slab with a damp proof membrane. Floor insulation such as polyurethane Xtratherm, Recticel, Kingspan or Quinn etc is laid over the slab.  Any vapour barrier, when necessary, will also be fitted on top of the insulation before the underfloor heating pipework is being installed.   In majority of installations the installers clip the pipe down onto the insulation, either by hand or using a tacker gun.  There are also other methods such as using clip rail or fixing the pipe onto mesh using cable ties.
Although we can advise on insulation thickness, the insulation thickness shall comply with building regulations.  Insulation prevents excess downward heat loss and also helps reflect heat upwards towards your feet.   Around the outside perimeter walls it is always recommended to fit edge insulation.  20 mm polyurethane insulation often specified by architects.  This is normally cut and installed along the walls, to let the screed expand if needed and also to avoid losing heat sideways.  We stock rolls of thin edging strip insulation which we offer as an optional extra to all customers.  With liquid screeds many screeders these days prefer this softer type of insulation.
What thickness of screed to use with wet underfloor heating?
When using traditional sand cement screeds the minimum thickness is 65 mm.  Ideal thickness is between 65 mm and 75 mm approx, however 100 mm thick screeds have been used successfully.  If you add fibre to the screed – or you use stronger types of screed you can go down to a minimum thickness of 50 mm. When using e.g. anhydrite screeds the 50 mm minimum thickness will also apply, however always check with the screed supplier.
For beam and block floors on upper levels it is still recommended to use floor insulation.   Even if the insulation boards were only 30 mm we can still supply shorter clips for clipping the pipe into place.  Screed thickness recommendations are the same as with ground floors.
An underfloor heating system in concrete relies on the thermal conductivity of the screed to transfer the heat to the rooms. It may be a slow response system, so the underfloor heating should be on 24/7 during the heating season with setback options available. It is recommended to use programmable room thermostats for extra comfort.
For further information, please visit our technical information page or get in touch for advice or a free quote.
Copyright (c) 2013 Underfloor Heating Systems Ltd