Is it possible to combine traditional radiators with underfloor heating?
Wet underfloor heating and radiators can indeed be combined together. It is quite common for properties in the United Kingdom to have underfloor heating e.g. on the ground floor and radiators on the upper floors.
As the ground floor is generally concrete screed, in particular with new builds, this is the perfect floor construction for a water underfloor heating system. The first floor or upper floors are normally of a timber suspended construction. These also work with underfloor heating systems, but it can sometimes be more practical or cost efficient to install or keep radiators upstairs.
It is very popular these days to install ufh in new build extensions. Many times the homeowner then decides to install the ufh system throughout the ground floor. Sometimes it is decided to keep the existing part of the ground floor 'as it is', only installing the ufh in the new extension itself.
We are regularly asked how the two systems can work together using the same water temperature from the heat source. For example in an old Victorian property, extra heat might be required, where heat losses are too high for a single system to provide heating for the entire property.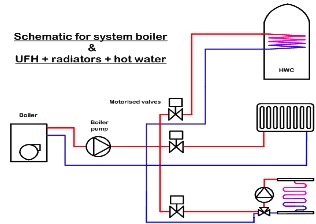 This is actually very simple. Looking at the above drawing for a breakdown of how the two systems can be accommodated by the same heat source. The underfloor heating system uses its own feed from the boiler, with a blending valve and pump fitted at the manifold, to lower the water temperature entering the underfloor heating system. Meanwhile the hot water from the boiler goes directly to the radiator system and hot water cylinder.
Each system needs a two-port valve (i.e. an 'S-plan' system) to give them independent control. The radiators and hot water supply are normally controlled by a two-channel timer while the underfloor heating system has its own programmable room thermostats.
If the underfloor heating system is fitted with our Heatmiser wiring centre, the boiler relay will give power to the motorised valve when heating is required and the volt free contacts on the two port valve will then start the boiler.
So it is a very common dilemma but with a very simple solution. Contact us to find out more about how our underfloor heating expertise could help you with your project, or see for yourself by visiting our technical information pages.