Improved Underfloor Heating Mixer Pack from Reliance Water Controls – RWC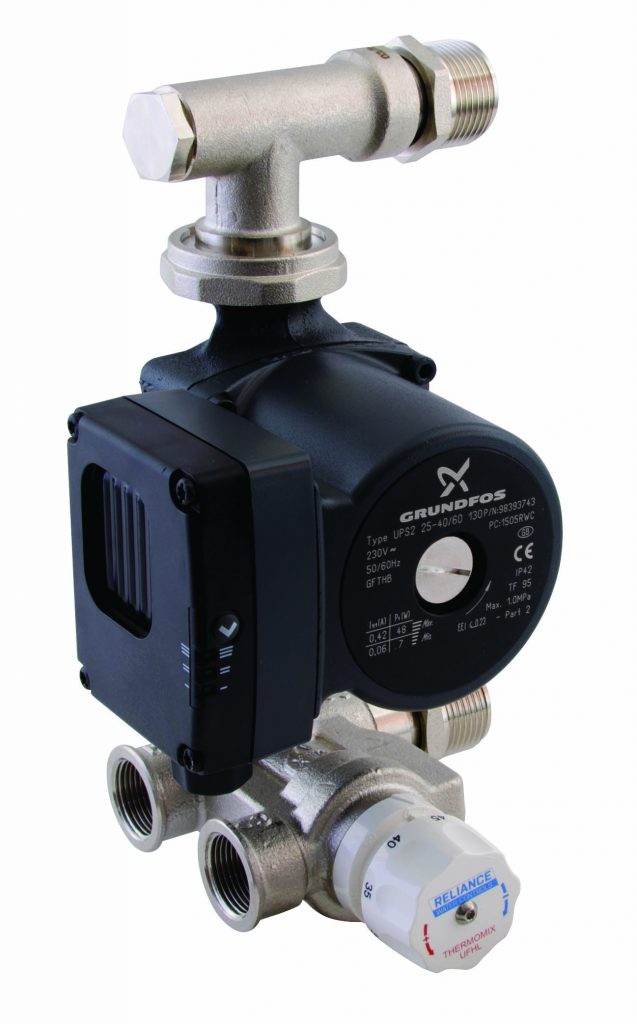 The new improved ThermoMix pack from Reliance Water Controls has been launched by Underfloor Heating Systems Ltd this month.
The unique patented mixer pack now comes with an option for tapping for a limit thermostat, temperature gauge or a pressure gauge.
A limit thermostat might be required for very sensitive flooring.  The limit thermostat will shut off the pump or a 2 port valve.
The unit offers quick bolt on for a simple installation and the new temperature setting is 25 degree C to 60 degree C.  The lower temperature is very important for commisioning new systems and heat pumps.
The control pack is nickel plated to fit our Watts/Dumser/Henco stainless steel manifolds.
The RWC mixer pack can also be left or right side mounted on the manifold and comes complete with a 6 m Grundfos UPS2 A rated pump.
O-rings are Viton seals.
The mixing unit will fit manifolds with 210 mm centres.  The unit is lightweight and very compact, therefore there is no need for extra brackets or support when connecting to a manifold.