Henco Multilayer Pipe – One of the best pipes to use for underfloor heating
Henco is one of world leaders for manufacturing multilayer pipes used for water underfloor heating systems. The Henco 16 x 2 mm PEX/AL/PEX pipe is made in Belgium to the highest quality possible.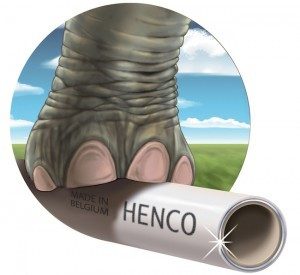 The main advantages of using the Henco pipe is;
– High heat output thanks to the aluminium layer.
– Comes with superior 50 years guarantee.
– Maximum working temperature and pressure is 95 degree C and 10 bar – shows the strength of the pipe.
– The use of the butt-welded aluminium pipe in the middle ensures that the pipe is 100 % oxygen diffusion tight. The Polyethylene on the outside and the inside has been cross-linked using electron beams.
– The Henco pipe combines all the advantages of synthetic materials and metal pipes.
– Henco pipes will retain their shape thanks to the aluminium layer. This makes it much easier to install for underfloor heating compared to normal PEX/PB pipes.
– Very low expansion rates compared to Polyethylene pipes and Polybutylene pipes.
– The aluminium pipe is inspected every 0.1 mm to ensure the highest European quality possible.
– Henco only use the highest quality bond layer between the aluminium pipe and the PEX pipes.
– Total resistant to corrosion. The smoothness of the inner pipe also ensures minimum pressure loss.
– The Henco pipe is very resistant to wear as the Polyethylene is cross-linked using electron beams.
– The pipe is also extremely light weight. A coil of 200 m Henco pipe is only 25 kg.
– The PEX/AL/PEX pipe has a very long working life and comes with a warranty of 50 years.