Case Study – Michael Johnson
Underfloor heating Leeds
March 2017.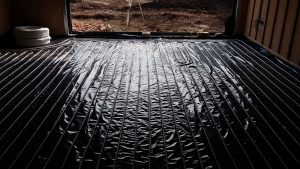 Everything is working fine and we are very happy with the underfloor heating.
In early 2013 we purchased a bungalow with the idea of building a house. The house was going to be on the same footing in terms of size 128m2 as the bungalow and my initial concerns were heating the huge rooms efficiently. My initial thought was to locate radiators in the rooms but this was going to look awful and restrict where we could place furniture in the rooms, it was also going to mean to heat the rooms to a nice temperature I would have to set the boiler quite high which was against our idea of have small gas bills for such a huge property.
I visited many self build show up and down the country and talked to many companies (big name companies) we had many quotes and it was going to cost us a huge amount of money to have underfloor heating, I thought many times that due to the fact we could afford to build the prices where being purposely hiked! I was just about to concede to the idea of doing radiators and achieving I dream of saving money on bills when I stumbled on an advert in a magazine Underfloor Heating Systems Ltd, what attracted me to the advert was the address was a unit and not a huge shop or chain of outlets with high street prices. I called them and spoke to a gentleman called Anders who asked for my plans, with in a week I had a quote for underfloor heating and nearly fell over, I called him that morning and asked if he had the correct plans and if he included all the rooms in the quotation as it was going to be thousands and I mean thousands cheaper than I had been quoted by all the other companies! the piping for the underfloor heating was the same and better than all the other companies, the manifold is the same principal as all the other companies. so I paid a deposit straight away for the system.
Two years on: The system is great, I set the rooms for the desired temperature and it's wonderful and warm. Due to the huge saving I opted for the neo stats which I can control from my phone or computer anywhere in the world. We live in Leeds West Yorkshire so if you are thinking about underfloor heating pay us a visit or call us and we will be glad to show you it working or talk to you over the phone.
Michael Johnson, Leeds, West Yorkshire.