Limecrete screed installation with underfloor heating in Wiltshire
Brook Cottage, Castle Combe, Wiltshire, SN14 7EX.
The environmentally friendly limecrete screed is becoming more and more popular.  We'll list the benefits of it and explain how to incorporate wet underfloor heating pipework within this exciting floor build-up.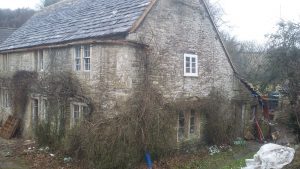 Ty Mawr system with Glypor & Limecrete – a 'breathable, sustainable alternative to concrete'.
A typical limecrete floor has a compacted layer of Recycled Foamed Glass insulation on top of a prepared sub-base and a geotextile membrane. This is followed by another layer of geotextile and limecrete – produced using lightweight insulating aggregate rather than conventional sand. Depending on individual requirements this can be followed by screed before the final floor finish.
The underfloor heating pipe couldn't be clipped to standard flat PIR insulation because the whole floor build up is different.  Instead cliprail was fixed on top of the plastic mesh, using cable ties.  Obviously the self adhesive would never have worked in this particular case.
Despite trying to use as many cable ties as possible, both the cliprail and the pipe did lift quite a bit.  So the pipework in these pictures won't exactly be used in our next new brochure.  They are however a good example of how to install wet ufh in limecrete floor projects.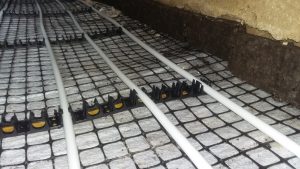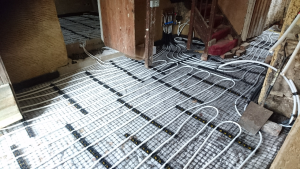 Henco 16×2 mm PEX/AL/PEX multilayer pipe installed using (cable tied) cliprail – BEFORE screed.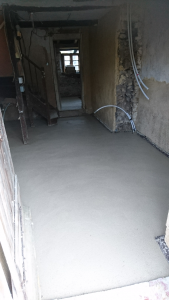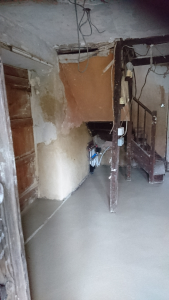 Pictures showing the limecrete screed laid above the Henco 16×2 mm PEX/AL/PEX multilayer pipe in Hall. 
Pipework was installed at 150 mm centres.
Summary:  An interesting and exciting project, and our first installation where limecrete was used.  Successful installation and as environmentally friendly, great pleasure in completing the work.
Underfloor heating installers Wiltshire.
…