Wet underfloor heating installations at Honnacott Barns, Bradworthy, Devon, EX22 7QS
Underfloor heating installers in Devon EX22
Project type: Barn conversions resulting in three units. UFH throughout the ground floor
Heated floor area and number of zones:  260 m2, 11 zones split over three barns 
Heat source:  Boiler
Pipe centres:  200 mm cc throughout using Henco 16×2 mm Pex/Al/Pex pipe
Floor construction:  Concrete (screeded) floor throughout with pipe clipped onto PIR insulation.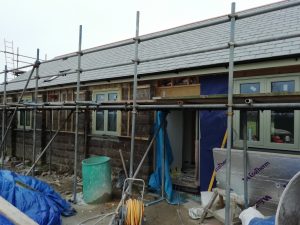 Unit 1 at Honnacott Barns.
This wet underfloor heating installation took place in December 2018.  Underfloor heating throughout ground floors of all three units.  Pipe in screed clipped to PIR insulation.  The underfloor heating kit  included hardwired Heatmiser neoStats with a neoHub, allowing for smartphone app control.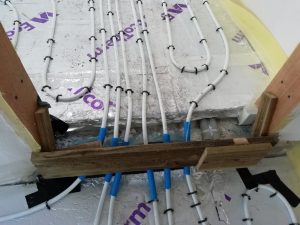 Pipes going up and down between different floor levels.
Barn conversions aren't always straight forward.  The shape of them may result in longer feeder pipes etc, however the main challenge can be a difference in floor level between rooms.  As the above picture shows, steps were going to be built to hide and protect the underfloor heating pipes.  Another alternative could be to cut channels into already existing steps.
Pipework was installed at 200 mm centres.
Underfloor heating installers covering the South West