What is the best solution for an existing concrete floor that requires water Underfloor Heating?
Many companies suggest Overlay boards, but below system is much better as the performance of the wet underfloor heating is much better than any Overlay system;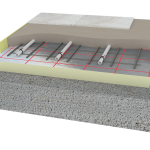 A thin Superfoil insulation can be used below the mesh.  Then, 50 mm liquid screed or fibre screed on top.
View all questions