I have a block and beam construction on the First Floor, do I need to use any insulation for the hydronic underfloor heating
Downward heat losses are approximate 10 % with any underfloor heating system.  Therefore it is always best to use some insulation on the FF also.
We recommend a minimum of 30 mm insulation as this will prevent any rooms over heating on the ground floor.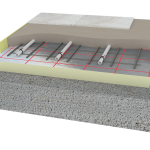 See more floor constructions below;
https://www.underfloorheatingsystems.co.uk/underfloor-heating-design/floor-construction/
View all questions