How easy or difficult is it to install UFH retrospectively?
People can be put off underfloor heating when installing in an older property. Digging up the floor, finding a space for the manifold or even raising the floor itself can all be seen as barriers for people thinking about retrofitting underfloor heating. There are a number of solutions, which mean underfloor heating is still be a viable option, regardless of the type of flooring or the age of your house.
It is possible to dig up a concrete floor and install the insulation, pipes and screed, (the best option for optimum heat output) retrospectively.  Although this is the ideal scenario, it is not always a cost effective way to install underfloor heating, so we may need to explore the alternatives.
One solution is to fit battens onto the existing base, usually around 50mm to 75mm battens at c/c 400 mm centres. Insulation is then fixed between the battens and the pipework is then fitted above the insulation in the air gap at c/c 200mm spacing.
After the underfloor heating pipework has been tested, a 25mm layer 'dry mix' of 8:1 sand to cement is overlaid; this typically weighs around 18 kg/m2. The lightweight dry mix will act like a concrete screed floor, effectively increasing the heat output.
An alternative to the dry mix is to use floating floor panels with aluminium foil. The 1.2m2 boards made of polystyrene and can be fitted directly over a flat concrete base, adding only 25mm to total thickness of the floor. It is very similar to an overlay system. Provided there is adequate available space, installing extra insulation below the floating floor panels is always recommended.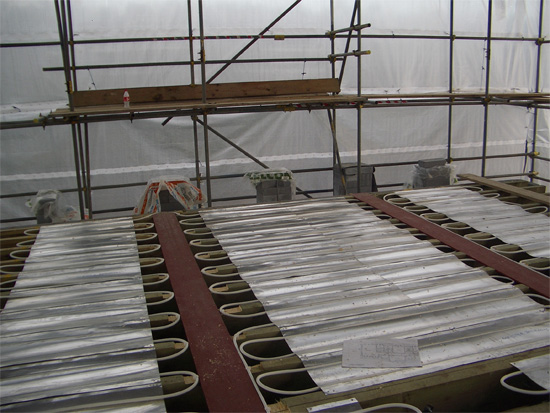 Fitting underfloor heating in timber suspended floors is very easy. The floorboards need to be removed in order to allow access to the space between the joists. Insulation is then fitted between the joists, supported by battens. The pipework is then laid on top of the insulation and finally the lightweight screed mix is used to cover the pipework, on top of the insulation.
Weight can present an issue above ground floor level; in these case the dry screed mix can be substituted for pre-grooved aluminium heat emission plates to save weight. The downside with the aluminium plates is that they are comparatively expensive and joists will need to be strictly at 400 mm intervals.
So although it can be more difficult to fit a warm a wet underfloor heating system retrospectively, doesn't have to cause considerable disruption and shouldn't put you off altogether. Always explore the alternatives, with the savings on heating costs, underfloor heating should always be considered.
This post is by Anders Berg at Underfloor Heating Systems, nationwide suppliers of wet underfloor heating systems.