Heatmiser Neo Smart Thermostats available from Underfloor Heating Systems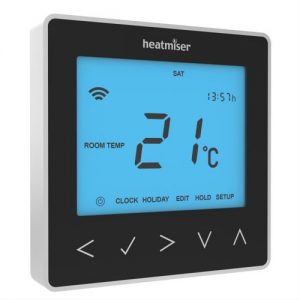 Here at Underfloor Heating Systems we can offer a number of Heatmiser room thermostats.
Our standard systems will all come with the programmable hardwired Heatmiser PRT thermostats.  We can also supply the PRT-W Heatmiser wireless room thermostats if required.  Both these themostats are also available as touch screen versions.
The Heatmiser DS1 dial thermostats are also available for customers that needs a cheaper quote.
For customers that want to control their water underfloor heating system with Smart phones we offer the Heatmiser Neo thermostats.
The Heatmiser Neo thermostats are hardwired and work with the Heatmiser UH3 wiring centre.  The Heatmiser Neo hub is required for each system. The Neo stats are available in white, black or silver versions.
A 12v low voltage system is also available from Underfloor Heating Systems.  These work with the Heatmiser Touchpad for instant access to the heating system.