Premium stainless steel manifolds for total piece of mind
Underfloor Heating Systems Limited aim to always use highest quality products.
Hence we have always used manifolds made by Watts/Dumser in Germany. Compared to some other manifolds available on the market, this manifold just doesn't leak – which gives both the installer and the end user confidence. Nobody wants additional call outs to site, hence this underfloor heating manifold has become also the UK installers' favourite.
Stainless steel manifolds are resistant to corrosion.   As a leading warm water underfloor heating supplier we are regularly contacted by new (unproven) manifold manufacturers from different parts of the world.  However our decision is always the same – we are not going to gamble on quality for the sake of only potential financial gain.  Quality matters !
Our manifold comes with filling / drain valves and also isolation ball valves. For standard systems we also include a Grundfos A rated pump and RWC mixing valve with each manifold. To connect underfloor heating pipes to manifold we supply eurokonus compression fittings. Flow rates can easily be adjusted at both flow and return manifold, using a radiator bleed key (supplied).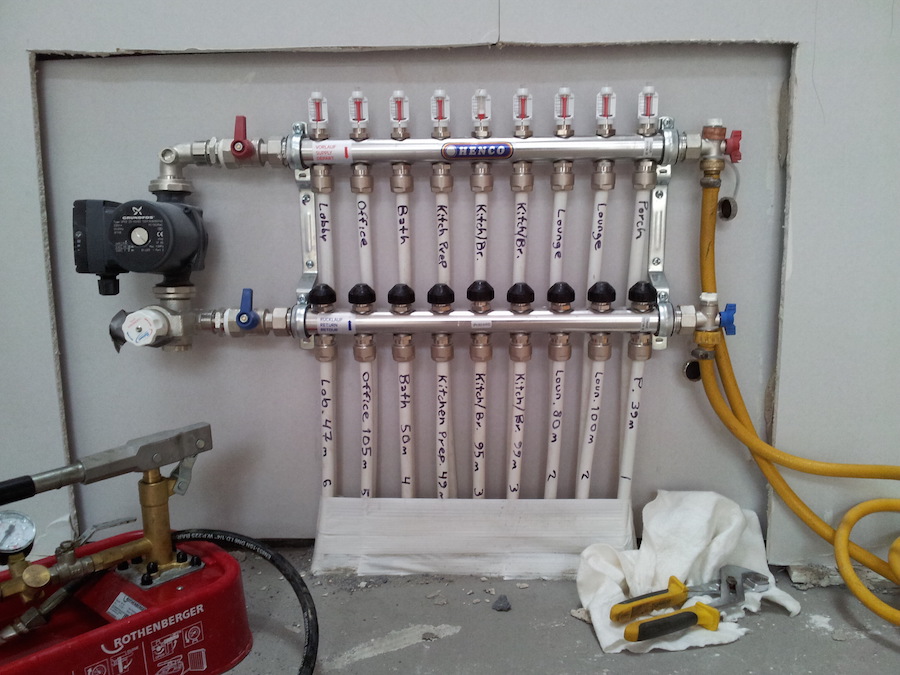 The above manifold installed by ourselves in 2014. As picture tells we are just filling the fifth circuit with water, using hosepipes connected to each fill/drain valve.  Each circuit to be clearly marked up on manifold.

As we use such high quality system components we have also chosen to supply German made Jurgen Schlosser actuators. These 230 V actuators have a clear indicator to show when ports are open. Actuators have a very compact design, using a wax element inside to change electrical energy into movement.