Case Study: Richmond Place, Bath, BA1
Underfloor heating Bath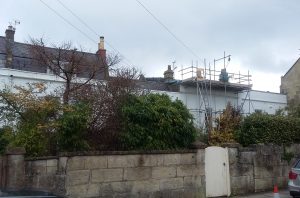 Project type: Rear extension and renovation. UFH throughout the ground floor
Heated floor area and number of zones:  35 m2, 2 zones
Heat source:  boiler
Pipe centres:  200 mm cc throughout
Floor construction:  concrete (screeded) floor throughout with pipe clipped onto insulation.
During early February we were asked to install a two zone wet underfloor heating system at a property in Richmond Place, Bath.  This was within the ground floor only, hence pipe clipped to insulation, with a membrane having been fitted above insulation due to chosen screed type being a liquid screed.  Edging strip was to be fitted along the walls too.
We had to face one issue with the fact the property wasn't yet weather tight, with doors and windows missing.
Being early February there was high risk of frost returning, having been such a cold and long winter.  If there is any risk of pipework freezing, it is always recommended to do the pressure test with compressed air.  However in this particular case the builder did request we fill the system with water.  The builder took responsibility of covering all gaps and also the screed was to arrive the following morning.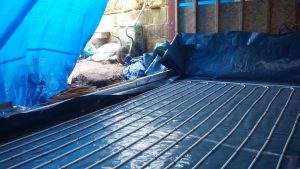 We installed a 2-circuit Watts manifold, with a RWC mixer and approximately 200 metres of Henco RIXc 16 mm pipe.
Zone 1 – Kitchen – 17 m2 heated floor area
Zone 2 – Sitting/Dining – 18 m2 heated floor area (pictured)
The maximum heat output from this underfloor heating system is approximately 3.5kW (12,000 BTU/hr). The amount of water inside the pipework and manifold is estimated to be around 22 litres.
Underfloor Heating Systems Ltd always supply and install enough pipe even for screeded floors so that average pipe centres never exceed 200 mm cc.  This is good news for all builders, plumbers and self-builders as the system will still perform in the long term future – even if existing boilers were later replaced by lower temperature heat sources such as ground source or air source heat pumps.  You want your heating to work not only today but always.  Hence you should always get in touch with us before you purchase your under floor heating kit.